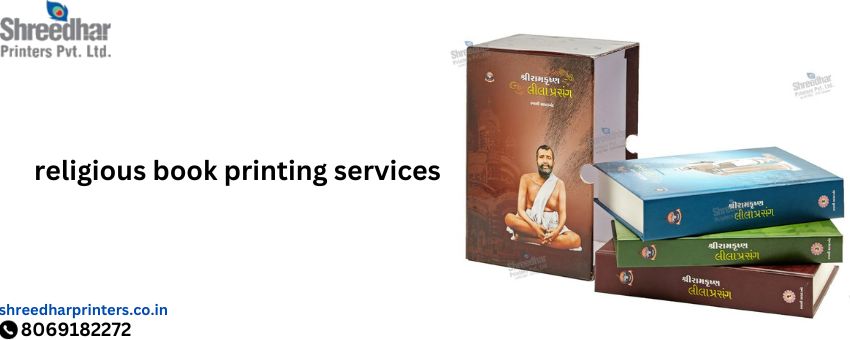 Religious books hold a special place in the hearts and minds of everyone. These sacred scriptures impact people and offer spiritual guidance, moral values, and a connection with the divine power, the almighty. Printing these books is a vital task executed only by the trusted and certified Religious Book Printing Services. They play a significant role in ensuring that the books are printed perfectly and reach their targeted customers in a faithful manner. They do the printing accurately and make them aesthetically pleasing.
What are the types of religious printing services offered by the experts?
They provide a wider range of printing services associated with religious books. Some of them are mentioned below.
Sacred text printing
This type of printing involves printing some of the most sacred or religious books such as Bhagwad Geeta, Quran, Bible, Ramayana, etc.
Prayer books and hymnals
Printing prayer books or religious songbooks for congregational or personal use.
Religious literature printing
This service includes printing books, pamphlets, and study material for institutes related to faith and spiritual teachings.
Custom religious Printing
Printing customized printing materials like calendars, event program charts, instructional materials, etc.
Ceremonial Printing
Printing items used in religious ceremonies, such as prayer cards, baptismal certificates, and wedding programs.
Impact of religious book printing services
These services play an essential role in preserving and propagating the teachings of various faith. Their work extends just beyond printing as they generate faith and sustain spiritualism among people. They make impact on the society in the following ways:
Spiritual guidance
By providing high quality and accurate printed books they help people connect with their faith and find solace in their beliefs.
Cultural heritage
The printing services preserve these texts and help safeguard the cultural identities of many communities.
Interfaith understanding
Many people have curiosity about the mythological history of other religions. These books serve as a medium for them to get aware of the religious beliefs of other religions. They are making texts available to read by anyone.
Tips to find the best religious book printing services:
Research – do a lot of research online about various printing service providers to approach for various types of religious book printings.
Reference – never overlook a reference you get from your friends or relatives. Evaluate their services on various factors to assess the quality.
Expertise – always look for a service provider who is experienced enough and has a brilliant team of professionals. They can manage any request you ask them for printing colorful or digitally printed books
Sample work- ask for samples of their work to get an idea of the quality you are going to get.
Customization – inquire about the customization in their services, whether they are ready for small orders or not. Ethical standards Choose a printer that respects the cultural and ethical sensitivity of religious texts.
Licensing - Confirm that they have the necessary licenses to print copyrighted religious texts.
Customer Reviews – Read reviews and testimonials to gauge customer satisfaction.
Price comparison- don't forget to compare price quotes of different service providers to set a budget for your printing requirements.